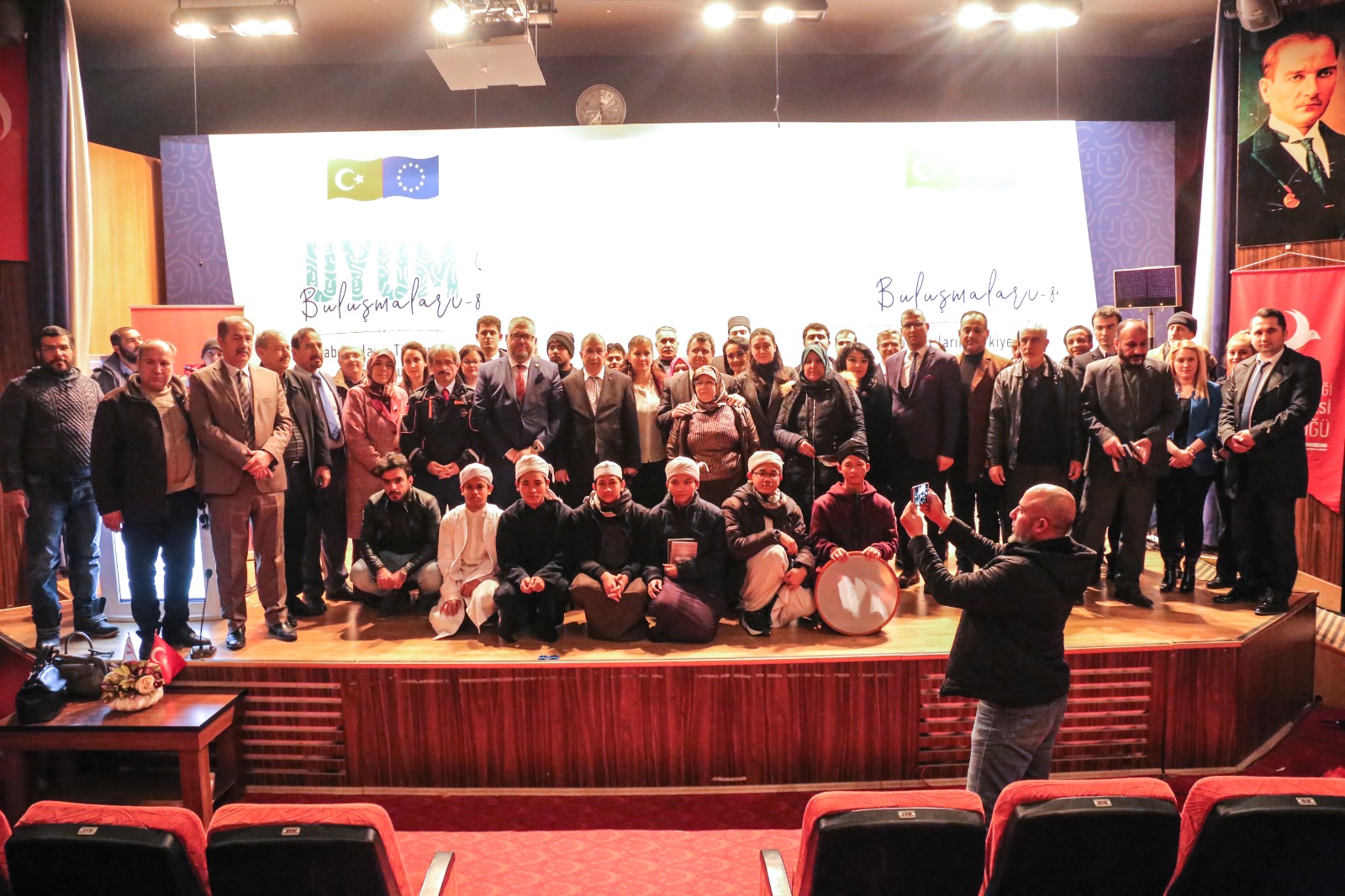 The traditional meetings on "Harmonization Meetings" which is organized by our Harmonization and Communication Department of our Directorate General, continues without pausing. In the meeting, the sixth of which was organized in Sakarya, rights and obligations that foreigners have in our country were dealt. In the meeting; Ahmet Hamdi NAYİR, Sakarya Governor; Mr. Dr. Gökçe OK, Deputy Director General; Mr. Aydın Keskin KADIOĞLU, Head of Harmonization and Communication Department, Ms. Nagihan ÖNDER, Head of Education Department; Ms. Hülya KORKUT, Provincial Director of Migration Management; Ms. Özge ARCAN, National Project Coordinator of the United Nations Migration Organization, and protocol members participated.
 
Speaking at the opening of the meeting, Mr. Ahmet Hamdi NAYİR, Sakarya Governor, stated that: "There may be nations that have created different civilizations in the world. Some people established their civilization by establishing cities, some by improving their industry. But our culture and history has carried itself to a unique point in the world by establishing a civilization of mercy. This must continue. Our new generations also must accept the guests in this land as their own brothers and sisters by being aware of the fact that it is part of the civilization of compassion."
Mr. Gökçe OK, Deputy Director General of Migration Management, reminded in his speech that Syrians under temporary protection have been migrating to Anatolia by necessity since 2011 and he stated that "Our brothers who are here with us today are the people who came from Aleppo, Idlib, Mosul and Kirkuk which were our provinces 100 years ago. We are singing the songs of Kirkuk today, this song will never end. It continued for a thousand year, there were some boundaries between us, those boundaries were destroyed by the migration as a twist of fate, but with our respect for their territorial integrity, we are hosting these brothers today. Our tolerance and toleration should continue without stopping, we must be in struggle for maintaining the traditional Turkish hospitality."
Emphasizing the fact that migration, which is an opportunity for states, will rejuvenate the population, mobilize resources and increase biodiversity; Mr. Dr. Gökçe OK stated that people should not be the victims of perceptions and said that "We have to manage migration, migration policies with reason, science, and logic. This is an inevitable geopolitical and geostrategic outcome of the world. A country that has bridges from north to South, from south to west and from west to east for centuries. And today it is a country that has become a destination for migration since it has strengthened and can stand on its feet. In irregular migration, all of our law enforcement officers are struggling with great sacrifice. This has serious costs and sacrifices. But thank God, we are able to overcome it."
As for Mr. Dr. Aydın Keskin KADIOĞLU, Head of Harmonization and Communication Department, he underlined in his speech that our Directorate General has been carrying out various works in order to see the migration as an opportunity and among these works, the harmonization meetings are the main ones. Informing about the works conducted to provide better service, Mr. Dr. Aydın Keskin KADIOĞLU said: "As you know, migration is a phenomenon that involves more than one area. The management of migration concerns many areas from health to education, from culture to tourism. This situation also diversifies your need for information. As being aware of this situation as the Directorate General, we bring you together with the valuable representatives of various public institutions and organizations in our Harmonization Meetings. Our aim here is to try to answer the questions you are curious about by ensuring a contact with the service providers face to face.
Emphasising in his speech the importance of good management of migration, Mr. Dr. Aydın Keskin KADIOĞLU stated: "It is important both for you and our country to uncover people's own stories and potentials, who are from 192 different nationalities of 4,7 million people and to facilitate their lives in harmony with our country. Managing migration well by achieving these issues turns migration into an opportunity for everyone.
As for Ms. Nagihan ÖNDER, Head of Education Department, she said in her speech: "While our country is a safe country for refugees, it has become a center of attraction with its economic and political developments. There are currently over 100 thousand foreign university students in our country. About 26 thousand of these students consist of Syrians under temporary protection. One of the most important priorities for our state is undoubtedly education. In this regard, kind of mobilization has been declared in order to remove barriers on education for all children in our country to access to education.
Pointing out the increase in school attendance rates of Syrian children under temporary protection, Ms. Nagihan ÖNDER, Head of Education Department, said "While the number of Syrian children receiving education in 2011-2012 is very low, more than 60% of these children are currently continuing their education and training.


At the end of the program, while the authorities of the relevant public institutions and organizations made recommendations for evaluation and road map, the meeting ended after the evaluation and solution proposals were presented.