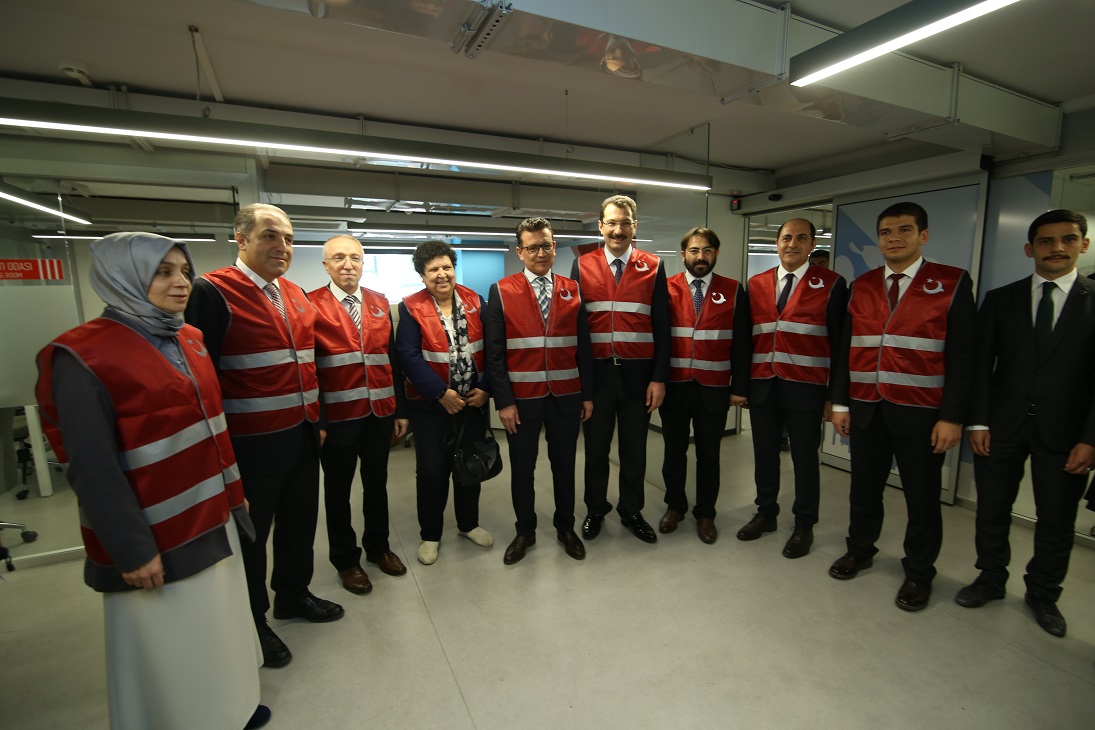 Human Rights Inquiry Committee of Grand National Assembly of Turkey performed a visit to YIMER (Foreigners Communication Centre) on 7 April 2016. In the committee who was welcomed by Mr. Salih BIÇAK, Deputy Director of Migration Management; Mr. Mustafa YENEROĞLU, Head of Human Rights Inquiry Committee of GNAT; Mr. Atay USLU, Head of Refugee Rights Sub Commission; Mrs. Şenal SARIHAN, Ankara MP; Mrs Dr. Leyla ŞAHİN USTA, Konya MP; Mr. Assoc. Prof. Dr. Ruhi ERSOY, Osmaniye MP; Mrs. Zehra TAŞKESENLİOĞLU, Erzurum MP and Mr. Ali İhsan YAVUZ, Sakarya MP were involved.
The committee who examined YIMER on-site, which answers 3,000 calls a day on average and has the solution rate of %97 in the first call, called 157 for trial purposes and appreciated that they could be connected to the foreign representative in a very short time after selecting the language option. The committee was informed about that the hotline which came into operation with 4 languages including Turkish, English, Russian and Arabic as of 20 August 2015, also began to provide service in Persian and German languages as of 1 April 2016.
In the visit, following the presentations made about YIMER, Directorate General of Migration Management, Readmission Agreement and the process after 4 April 2016, the questions of esteemed committee members were answered. The committee who also learned that as of 20 August 2015, YIMER helped to save the lives of 6,180 people who were stranded in the sea while trying to pass illegally to the islands from Aegean Sea, expressed their thanks for the services provided and emphasised that the works of YIMER were very important. The visit ended after taking photos.